About The Project
| IN MEMORY
Doig River First Nation's Dedication:
This exhibit is dedicated to the memory of important Doig River elders and community members no longer living. We honour their lives by remembering and practicing what they taught us.
Anachuan (Bella Yahey)
(circa 1874 - July 16, 1976)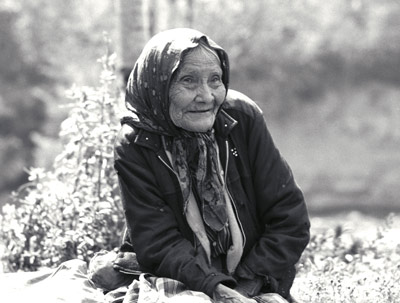 Anachuan's exact birth date can not be ascertained, as it was before official records were kept. CBC radio heralded her as "The Oldest Woman in Canada" and announced that she was 116 years old when she died.
Anachuan was the last wife of the Dreamer Charlie Yahey, and although they did not have any children of their own, they brought up several, including Charlie Dominic, whose mother Atahin Yeklize was married to Charlie Yahey before his marriage to Anachuan. Anachuan was a very traditional woman, and when she was forced to live on a reserve, she deeply missed the trails of her younger days.