Places | Hanás Saahgéʔ (Doig River)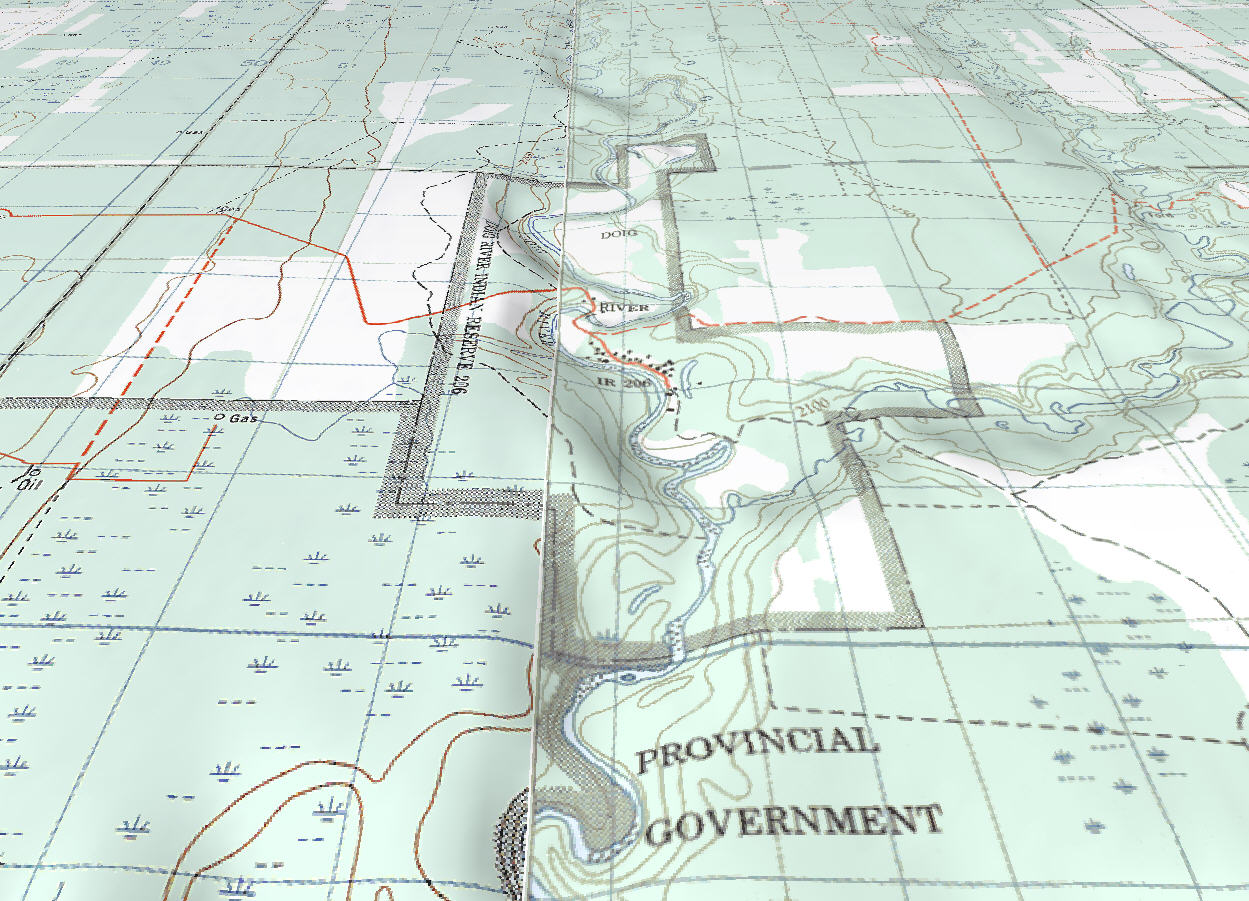 Songs

Tommy Attachie and the Doig River Drummers singing a song by the Dreamer Adíshtl'íshe, Doig River, 2004.

Click to Listen
Know More
Tommy Attachie and the Doig River Drummers sing a song by the Dreamer Adíshtl'íshe at our annual summer Tea Dance. Doig River, 2004.
Slide show not displaying? Click here to view images
Traditional Use:
Hanás Saahgéʔ means "Raft River" in our language. For as long as we remember, this area of the Doig River has been a major camping spot for our people. We used it on our seasonal rounds as we traveled to hunt, trap, and gather throughout our territories. We would often transport our furs down river from Alédzé Tsáá by raft following the spring breakup; this is why we call it Hanás Saahgéʔ (Raft River).
Colonialism and Settlement:
In the early 1950s, we were forced to settle here and send our children to school after our reserve at Suunéch'ii Kéch'iige (Montney) was taken away from us. The Doig River Indian Reserve has been our home base since then. The last fifty years have been decades of great change, struggle, and cultural resilience for us.
Settling down meant that we no longer made our living entirely off of the land. The large influx of settlers and developers who arrived after the Alaska Highway was built during WW II also threatened our control over our land base. This alienation from our land and its resources, coupled with the decline of the fur trade meant the loss of our livelihood through trapping.
Stripped of many of our rights through Colonial rule, and living in sub-standard houses provided by the Department of Indian Affairs for many years, many of our people turned to alcoholism and despair as they struggled to fit in with the growing non-Aboriginal community around us.
Renewal:
In 1998 we were compensated for the loss of our mineral rights at our old reserve at Suunéch'ii Kéch'iige (Montney) after persevering over a twenty year period to research and build our case. Receiving both the recognition of wrongdoing, and compensation for our lost mineral rights, has been very important for the renewal of our community. Following this success, we were able to build our own Administrative and Cultural Centre, which we opened in 2003.
Our Administrative and Cultural Centre is an inspiring place for our community to gather for meetings, social events, work, and recreation. The centre has also been the home base of this website project.
With our project office set up in the Doig River Museum, we created exhibits about our trips out into the bush to document oral histories, and shared them with the rest of the community and visitors to the museum. We also made DVDs of these field recordings and showed them to community members, project participants, and visitors.
Project team members - elders, youth, ethnographers, and linguists - met with the wider community members in both our boardroom and gymnasium to talk about the website; how the information should be gathered, how the information should be organized, and what it should look like.
Although we are now settled on the Doig River reserve, we continue to travel and hunt game throughout the territory that we once moved through every season. We maintain a connection to the important places around us, and work hard to protect our Aboriginal and Treaty Rights to the land and its animal and spiritual resources.
For more about our community at Hanás Saahgéʔ (Doig River), please visit About Doig River First Nation.