Dane-zaa Stories & Songs
| PROJECT CREDITS
Doig River First Nation gratefully acknowledges the financial investment by the Department of Canadian Heritage in the creation of this on-line presentation for the Virtual Museum of Canada.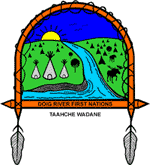 Funding:
The Virtual Museum of Canada
Volkswagen Foundation (Funding initiative: Documentation of endangered languages)
The Doig River First Nation
The Northeast Native Advancing Society
North Peace School District #60
Project Directed by:
The Doig River First Nation (see Project Participants)
Producers, Project Coordinators, Exhibit Curation, Community Consultation:
Amber Ridington and Kate Hennessy
Interactive Producers
Wayne Clark and Katherine Lee
Website Production Development:
Unlimited Digital Communications, Inc.
Usability Testing: Wayne Clark
Design: Kyle McIntosh and Darren Card
Graphics, Programming and Integration: Kyle McIntosh
Video Editing: Malcolm Levy with Kate Hennessy
Ethnographic Documentation:
Amy Acko, Robin Acko, Starr Acko, Eddie Apsassin, Mark Apsassin, Dr. Peter Biella, Charmayne Brinkworth, Brittany Brinkworth, Kate Hennessy, Julia Colleen Miller, Dr. Patrick Moore, Madeleine Oker, Gary Oker, Amber Ridington, Jillian Ridington, Dr. Robin Ridington, Stacy Shaak.
Interpretive Text Writing and Editing:
Amber Ridington and Kate Hennessy
Dr. Robin Ridington
Jillian Ridington
Dane-zaa (Beaver Language) Translation and Transcription:
Director: Dr. Patrick Moore
Translation: Billy Attachie, Madeline Oker, Eddie Apsassin, and Margie Miller
Transcription: Dr. Patrick Moore, Julia Miller, Gabriele Müller, Billy Attachie, Madeline Oker.
French Translations by:
Françoise Wolfsohn
Solen Roth
Teachers Resources:
Angela Wheelock in consultation with:
Doig River First Nation
School District #60, First Nations Education Center, Fort St. John.
Kate Hennessy and Amber Ridington
Print Design: Dan Fong, Kate Hennessy, Amber Ridington
Text Editing:
Dr. Jennifer Kramer
Frances Raftis
Sarah Mitchell
Daniel D. Read
Angela Wheelock
Communications McKelvey inc.