About The Project
| PROJECT TEAM
Below is a collection of community members and participants that made this project possible. Click on each photo thumbnail to learn more about each person.
Tommy Attachie

Elder, Song-keeper, Oral Historian, Project Advisor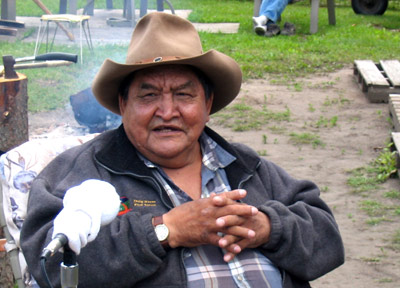 My name's Tom Attachie. I'm fifty-eight year old.
When I was young, I want to drum.
I want to drum. I like to drum with people.
And finally I grow up and I started drumming and now,
I start, I'm a song leader.
Tommy Attachie has been singing Dreamers' songs since he was a young man. He learned from the masters: Charlie Yahey, Billy Makadahay, Charlie Dominic, Albert Askoty. From Albert, Tommy inherited the role of song-keeper. His Christian faith, combined with his knowledge of traditional Dane-zaa teachings, make him an inspiration and role model for younger people. Tommy knows the songs and the stories that go with them. He knows Dane-zaa territory. He knows the language. These skills make him an ideal teacher for the coming generations. (Robin Ridington)