About The Project
| PROJECT TEAM
Below is a collection of community members and participants that made this project possible. Click on each photo thumbnail to learn more about each person.
Madeline Davis

Elder, Oral Historian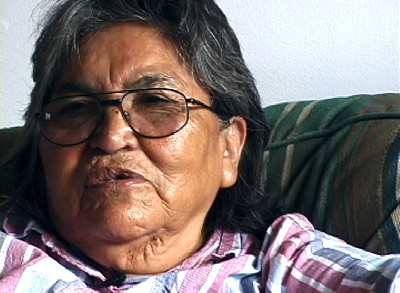 With our old people, old time, what they'd saying we, we do. They teach us those, a lot of things - Make dry meat, make hide, and sewing and stuff like that.
(Madeline Davis, 2005)
Madeline Davis is the daughter of Chief (Tagea) Succona and his second wife, Helen Appaw. Madeline was born at Doig and was raised there as well as out on the land with her family as they traveled seasonally to hunt and trap. Her mother died when she was two years old and her father, along with her grandmother, Nancy Apsassin and Mrs. Jack Acko raised her and taught her the traditional Dane-zaa way of living.
Madeline married Pat Davis and they had six children before he died in 1968. Madeline continues to be a strong mother and teacher to her family and others within the Doig River community. Her son, Kelvin, has followed in his grandfather's footsteps and is the current Chief of the Doig River First Nation.