About The Project
| PROJECT TEAM
Below is a collection of community members and participants that made this project possible. Click on each photo thumbnail to learn more about each person.
Billy Attachie

Elder, Oral Historian, Project Advisor, Beaver Translation Team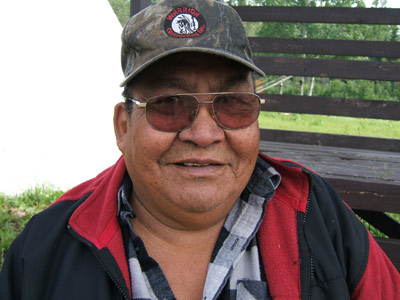 Those stories we remember, that's what we live by now.
Billy Attachie grew up at Petersen's Crossing and at Doig with his parents, Alice and Murray Attachie and his numerous siblings and extended family. He learned how to hunt and trap at a young age and continues to hunt, despite being affected by polio when he was a young man. Billy's first language was Dane-zaa and he only began to learn English when he attended the day school at Petersen's Crossing in the 1950s.
Billy has been a pioneer in working to preserve and document the Dane-zaa language. He began working with linguists and missionaries Marshall and Jean Holdstock to translate the bible into Dane-zaa in the 1960s and later took native language workshops in Vanderhoof and Prince George to learn how to write his language phonetically. Since this time Billy and the Holdstocks have started the Beaver (Dane-zaa) Literacy Project which has produced a number of conversational beaver language books with common Dane-zaa words and phrases.
In recent years, Billy has gone digital and made Dane-zaa language materials available in both written and oral formats with sound files accompanying the text so that students can hear how the word should sound as well as read it.
Billy is a proud father and grandfather and continues to pass along a great deal of traditional knowledge to the younger generations within his community.