About The Project
| PROJECT TEAM
Below is a collection of community members and participants that made this project possible. Click on each photo thumbnail to learn more about each person.
Chief Gerry Attachie
Elder, Oral Historian, Project Consultant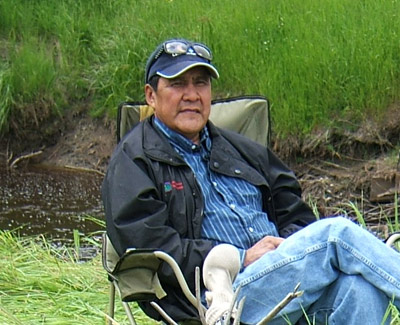 And with that money we built this hall here, this complex, the rodeo ground, and some of the buildings. And the sad part is, when we start this court case, some of the Elders said they were happy, they said. Finally they want justice done, because they've been suffering in the past too long. They pass on. But now we're just looking forward in the future to set up something for our next generation. One thing lacking right now is, start slowly dying off, is our language. But we are fighting that. We try to bring it back. That's why we brought you people in. The museum here too. I hope we don't lose our language...
(Gerry Attachie, 2005)
Gerry was re-elected to council on November 21, 2003 after a six year sabbatical from band administration.
Gerry was first elected to council in 1974. Two years later, he was re-elected as Chief becoming the youngest Chief in British Columbia at that time at the age of 25. He had grown up on the reserve and often heard the elders discuss their concerns with government and the treaty. He took the responsibility to make a change while he was in office. The former Fort St. John Indian Band (which is now split into Blueberry and Doig) was moved from the land they were occupying near Fort St. John when the veterans came home from the war. The government needed prime land to give the veterans, so they relocated the First Nation people. This was prime land that was rich with mineral rights. In the late 1980s, Gerry helped file a land claims case regarding this issue in BC Supreme Court. This case is known as the Montney Land Claim or Apsassin vs. The Queen. Gerry joined the Union of BC Indian Chiefs and through his involvement with them, doors of opportunity started to open.
The most instrumental factor in the lawsuit was to find money to continue pursuing it. Gerry traveled around the country meeting people and trying to secure funding. By uniting with other Bands and tribal councils, Doig River First Nation secured enough loans to pursue the case. Even though they were defeated three times in Provincial Court, Gerry worked closely with former Chief Joe Apsassin from Blueberry First Nation and the lawyers. Together they persisted and appealed to the Supreme Court of Canada. Gerry endured over 16 weeks of cross-examination during the process and did everything possible to help build a successful case. In 1997, the Supreme Court of Canada ruled in favour of the plaintiff, awarding Doig River First Nation and Blueberry First Nation $147 million. This ushered unbelievable financial prosperity into the two communities and lives of hundreds of First Nations people in Northeastern BC. It also demonstrated unity in that First Nations can partner to accomplish a goal and fulfill a vision.
During his 17 years as Chief, Gerry strove to maintain unity within the First Nation. He believes strongly in people working together for the good of all. He sought the common middle grounds and worked hard not to choose sides when disagreements arose. A great listener, Gerry was always open to hear the concerns and requests of the people. He was known to support members in whatever way possible, even as far as attending Alcohol Treatment Centers along with members in order to offer support.
Gerry was the first to really bring Doig River First Nation out to the public. He had the foresight to establish the Land and Resource Management Office at Doig River First Nation and endeavoured to establish a consultation process between the First Nation and the oil and gas industry. He worked to liaison with City government, police officers, churches, and rural residents.
Gerry has benefited the community not only by his political dedication and influence. He is a strong supporter and active participant in community activities. His most recent involvement involves serving as Rodeo President for the Doig River First Nation Rodeo. This is an annual event that draws hundreds of people. Rodeo has been an important part of the Doig River First Nation community since the mid '60s and Gerry is working to continue the tradition to future generations. It is a time when the Dane-zaa people open their lives to members of the surrounding community and fellow First Nations, in hopes that everyone will come away with a positive cultural experience.
Furthermore, Gerry has served as a trustee on the Doig River Board of Trustees. This is an important leadership role since trustees are responsible to oversee the vision and planning for the First Nation.
Since completing his last term in government in 1997, Gerry has focused on operating his company - Milligan Hills Contracting. This keeps him actively involved in the oil and gas industry as his company provides labourers, pipeline right of ways, slashing, clean-up and seismic work for oil and gas companies.