About The Project
| IN MEMORY
Doig River First Nation's Dedication:
This exhibit is dedicated to the memory of important Doig River elders and community members no longer living. We honour their lives by remembering and practicing what they taught us.
Charlie Dominic
(1904 - Dec 1994)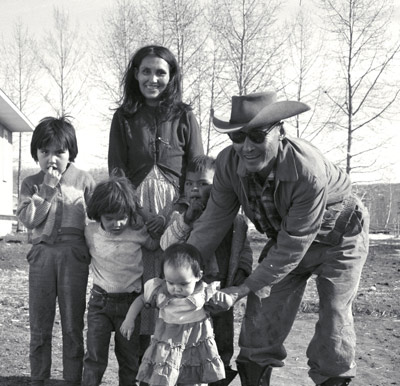 Charlie Dominic's father died when he was very young, and his mother Atahin then married the Dreamer Charlie Yahey. Young Charlie was greatly influenced by his step-father, who taught him songs, stories, hunting and trapping. Charlie Dominic had many children who are now active and important members of our Dane-zaa community.
Charlie became a strong singer and a good teacher. Songkeeper Tommy Attachie counts Charlie as one of his important mentors. Charlie took pride in his horses and always liked to ride a handsome white horse. From his teenage years to his years as elder, Charlie was a smart dresser. He liked to look good and he was good at it.