About The Project
| IN MEMORY
Doig River First Nation's Dedication:
This exhibit is dedicated to the memory of important Doig River elders and community members no longer living. We honour their lives by remembering and practicing what they taught us.
John Davis
(Sept 21,1904 - Oct 1998)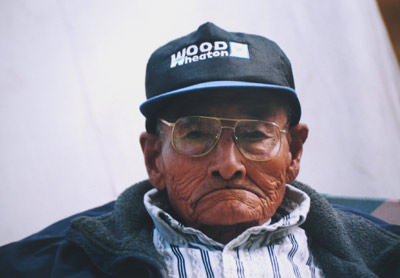 John Davis ("Grandpa Jones", or "Biscuit") was the son of old Jebis and Malli Atschew. He was the father of eleven children, and his many descendants are central to our Doig River First Nation community. He taught his sons great hunting and trapping skills, and the women in his family are experts in traditional Dane-zaa women's skills.
"Grandpa Jones" loved his life in the bush and seldom went to town. He even preferred to live at a distance from "downtown Doig." When he testified at the Montney court case, he told the judge, "What I can remember, I will say. What I do not remember, I will not say." John Davis was an honest man.