About The Project
| IN MEMORY
Doig River First Nation's Dedication:
This exhibit is dedicated to the memory of important Doig River elders and community members no longer living. We honour their lives by remembering and practicing what they taught us.
Saviour Agnas (Stoney)
(September 24th, 1929 - April 6, 2007)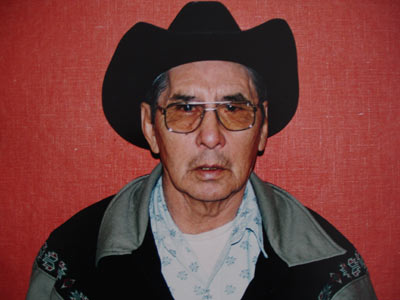 Saviour was born September 24th, 1929, to Pierre Agnas and Mary Ann Checkiyas on their trapline at Nig Creek. He spent his early years living and learning the ways of hunting and trapping and fishing. After his father passed away, Edward and Nora Apsassin adopted him and his brother. After trapping and hunting for years with the Apsassin family, Saviour and his brother Adolphis, went to work for Mel Clarke. Around 1955 he met his wife Albina Acko and they had 9 children together, 5 boys and 4 girls. He raised his children at Doig and worked for Doig farms. He guided for some thirty years, and spent the last few years enjoying life and taking it easy. He especially enjoyed his 27 grandchildren and 17 great grandchildren. He had special nicknames for each of them, who he loved dearly. His last days were spent with his children, grandchildren, great grandchildren, and many friends and relatives.