About The Project
| IN MEMORY
Doig River First Nation's Dedication:
This exhibit is dedicated to the memory of important Doig River elders and community members no longer living. We honour their lives by remembering and practicing what they taught us.
Mary Pouce Coupe (Naachin)
(May 23, 1890 - Mar 11, 1977)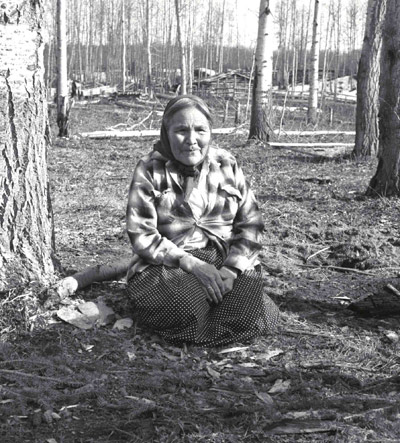 Naachin lived a very traditional Dane-zaa life, and was very knowledgeable about our traditional Dane-zaa stories and techniques. When she was quite young, she married old Appan, whose ancestry we can trace back to the first written record describing Dane-zaa people in 1799. Through Appan, Naachin learned many traditional stories. Her first daughter, Helen Appaw was born from that union, and Helen later married Chief Succona.
After Appan's death, Naachin married John Pouce Coupe and had several more children, including Lena. When she was again widowed, she became the wife of Charlie Yahey's brother, Ben; Alice Ben Attachie and Louis Ben were the children of that marriage.
Naachin was a great influence on her many grandchildren; they include song-keeper Tommy Attachie, Dane-zaa language keeper Billy Attachie; former Chief Gerry Attachie; Margaret Attachie, an expert maker of traditional moose-hide clothing; the late McKenzie Ben: and Madeline Succona Davis, one of our most knowledgeable elders and the mother of Chief Kelvin Davis.
The children that Naachin raised sometimes called her Samakanis, which means "policeman," because her voice was the voice of authority. But she was also a kind and gentle teacher. She would tell stories until the kids began to go to sleep, and then would repeat the stories the next night until they had learned them.