About The Project
| IN MEMORY
Doig River First Nation's Dedication:
This exhibit is dedicated to the memory of important Doig River elders and community members no longer living. We honour their lives by remembering and practicing what they taught us.
Murray Attachie
(June 17, 1916 - 1972)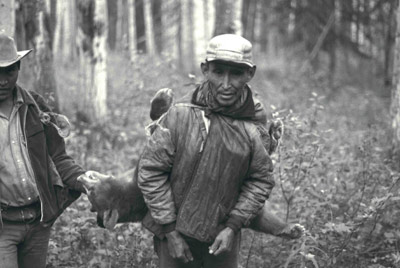 A son of Chief Attachie, Murray was brought up in our traditional Dane-zaa way, and was a very skilled hunter. His many sons learned these skills from him. Murray, and his wife Alice, lived through the loss of our traditional nomadic lifestyle and the loss of our reserve lands at Suunéch'ii Kéch'iige (Montney), and adapted to life in our new Doig River reserve. They had eleven children, many of whom are among our most important elders.
When Indian Agent Joe Gallibois tried to force people to abandon their trap lines and send their kids to school, Murray spoke out about our Dane-zaa need to make a living from the land. His son, former Chief Gerry Attachie, initiated the legal action about the loss of the Montney Reserve that ultimately resulted in a settlement for the Doig River and Blueberry River First Nations.