Recent Initiatives
DRFN's Water Treatment Plant Construction Update (August 7, 2022)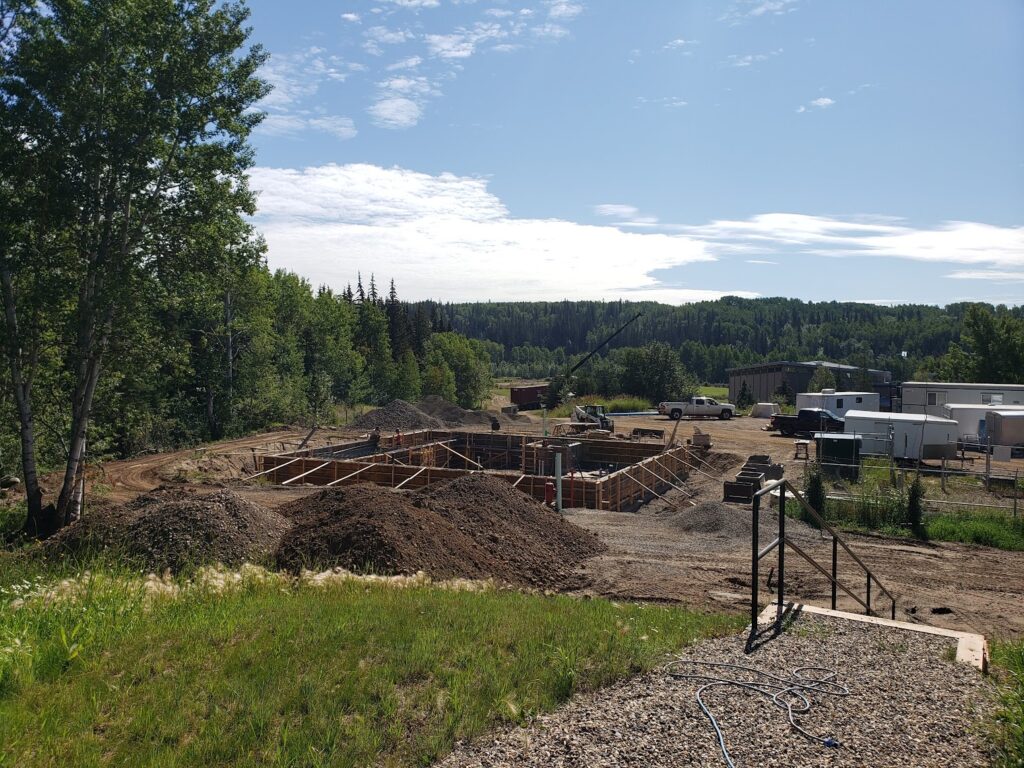 The current phase of the Long Term Water Upgrades project consists of a new watermains from existing wells, a new water treatment plant, a dedicated watermain between the water treatment plant and the reservoir, and a rechlorination building at the reservoir site. To date, work has commenced off-site for fabrication of the treatment skids (currently approximately 80% complete), electrical cabinetry and control panels, stainless steel pipe spools, and the purchase of most of the process equipment. Equipment is starting to arrive on-site.
The underground utilities around the water treatment plant building have been completed, with work progressing south towards the river, including a directional drill across the river planned for July 27 – August 2nd.
The foundation and foundation walls for the water treatment plant building have been poured, with the next milestone for this building being the interior slab on grade and masonry walls.
The piles have been installed at the rechlorination building, with plans for concrete work occurring at this site shortly as well.
The next month's activities will see a large portion of the underground watermain works completed (including from the highway towards the reservoir along Bear Street) and work towards lock up of both buildings.
Tsáá ché ne Dane Cultural and Education Centre
Construction has began in June 2022 at DRFN on our new Tsáá ché ne Dane Cultural and Education Centre. The centre will be used by community members for taking training. It will also be used for homework nights and provide meeting space. This is another exciting initiative of our Nation and we look forward to its' completion.
Tea Dance Arbour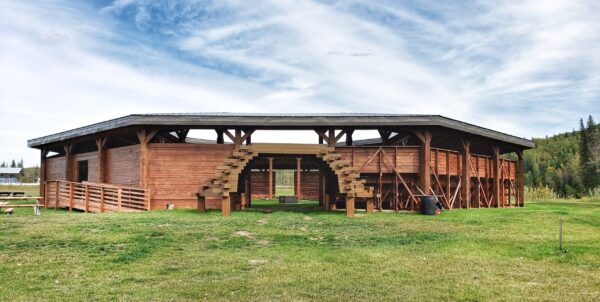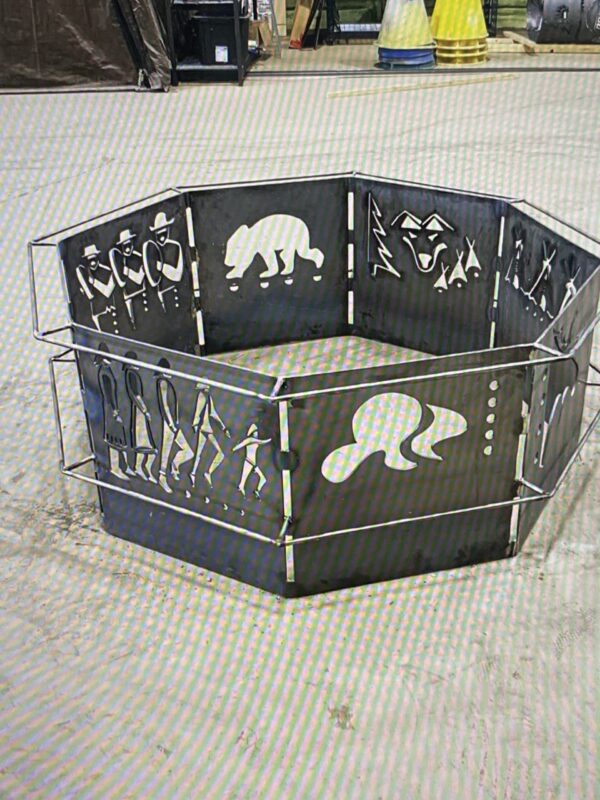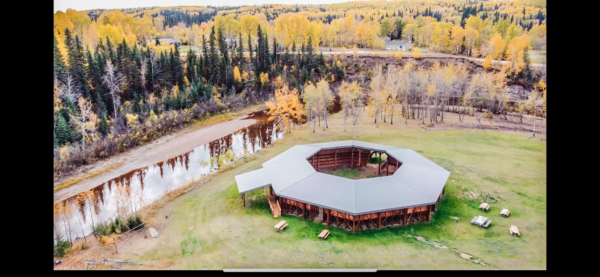 One of the projects identified by community members in our Comprehensive Community Plan was the need to construct a Tea Dance Arbour, a place where we can gather and carry out many important cultural traditions and practises. Our beautiful arbour was completed in spring 2021.
The arbour will be used as a gathering space for ceremonies, powwows, dancing, celebrations, weddings, funerals, cultural days, drumming, learning and storytelling.
Dancing is an important tradition in our culture. Our Dreamers' Dance is a world renewal ceremony. We dance to songs brought down from Heaven by our Nááchįį, or Dreamers. These songs are remembered and performed by our Doig River Drummers.
'Dahwawetsats' is our Beaver word for Dreamers' Dance and it simply means, "they dance." We also call it a "Tea Dance," because we always drink tea when we gather together like this.
Traditionally, our people came together to dance and to hear the Dreamer's words and songs near the winter and summer solstices.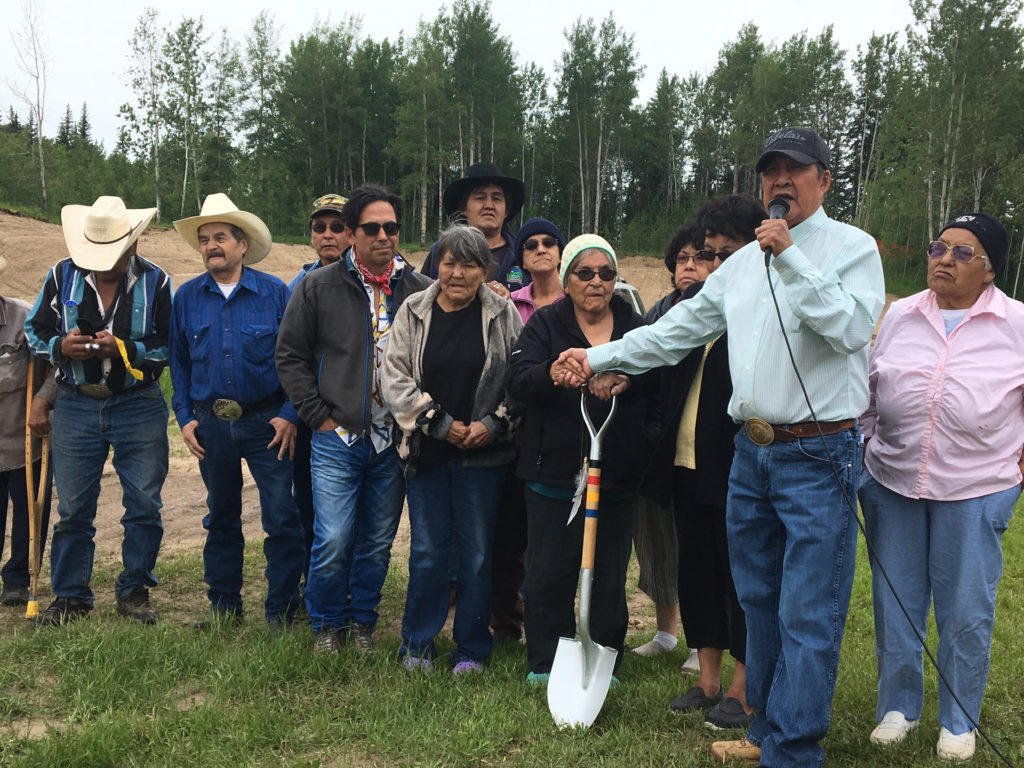 Today, our people from the different Dane-zaa bands come together to dance at various points throughout the year. At Doig River, we always hold a Tea Dance around the summer solstice to kick off our Doig River Rodeo weekend.
DRFN Elders participate in groundbreaking for our Tea Dance Arbour.
We also continue to hold Memorial Tea Dances when there has been a death in the community. At these ceremonies, we dance to help the person's spirit begin its journey along 'yaak'eh atane', the trail to heaven. Like the Dane-zaa people who came before us, we dance in a circle following the sun's direction from east to west.
Our most recent Dreamer, Charlie Yahey, said that if our people did not come together to sing and dance around the time of winter solstice, the sun would continue to move to the south and winter would continue. By dancing together, we help the sun turn toward the north and bring on the long days of summer, renewing the earth's cycle for another year.
---
Garden Towers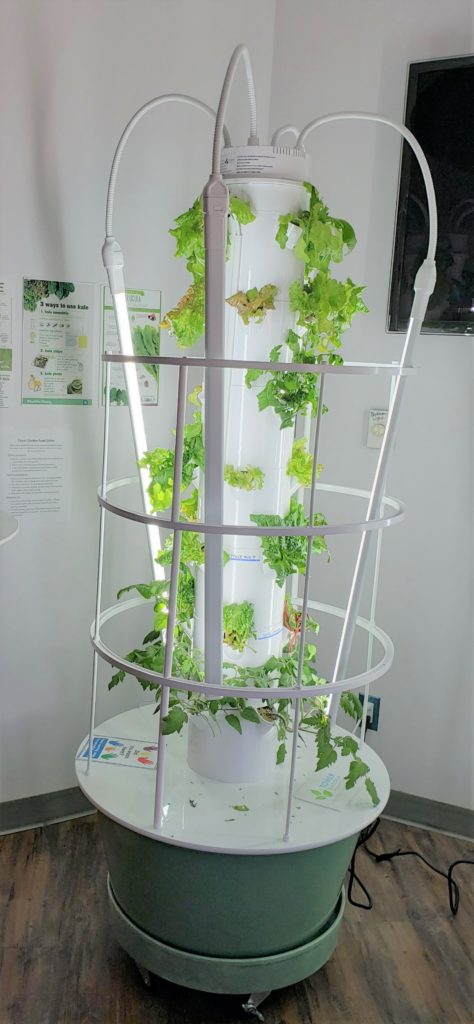 The staff and community are very excited about our 3 new garden towers. In spring 2021, we began growing food them. We are growing cherry tomatoes, basil, kale, a few varieties of lettuce, rainbow chard and arugula. They have been very successful so far.
The towers are low-maintenance, only requiring water and nutrients every 2 weeks or so, at which point we check the pH and adjust if needed. Every 6 months we will dismantle the towers for a thorough cleaning.
The towers are a hydroponic growing system, meaning the plants grow in water instead of soil. Nutrients are put in the water which is then pumped to the top and trickles down over the plant roots. Grow lights are on a timer to mimic daylight, which is why we can grow year-round. They're well suited to "cut and come again" plants where we can cut leaves and the plant keeps growing.
We've had very positive feedback on the tower gardens. At full production, we were cutting and preparing bags of salad greens a couple of times a week. This initiative helps us meet local food source and sustainability goals for the Nation.
---
Dane che' adliih dę' kwą (Peoples Prayer House)
The Peoples Prayer House was recently constructed at DRFN. It is a state-of-the-art Passive House facility and is the most northern Passive House Certified building in North America.
"A Passive House is a building, for which thermal comfort (ISO 7730) can be achieved solely by post-heating or post-cooling of the fresh air mass, which is required to achieve sufficient indoor air quality conditions – without the need for additional recirculation of air." (Source)
The facility is home to the following community services:
The facility was constructed with the support of TC Energy (Coastal Gaslink and PRGT), BC Hydro, DRFN Community Development Trust and the Province of British Columbia New Spaces Childcare Program.
The facility is managed by Sharon MacDonald, Community Services Manager.
Contact: Sharon MacDonald, Community Services Manager at smacdonald@doigriverfn.com
---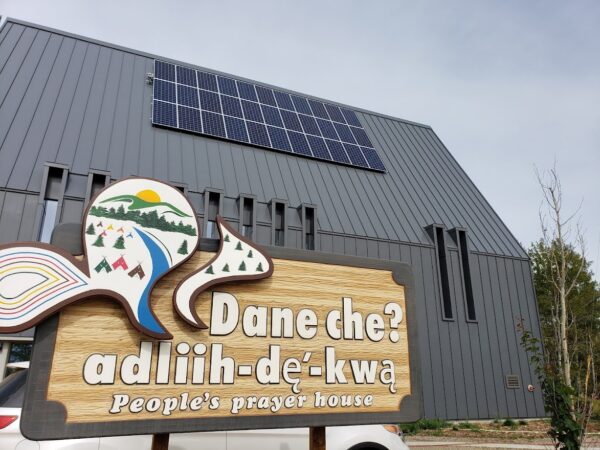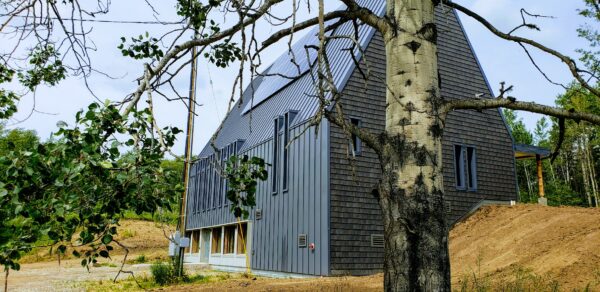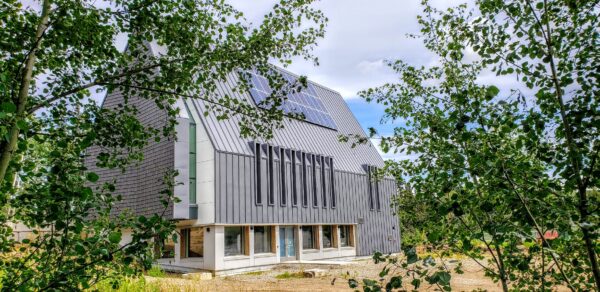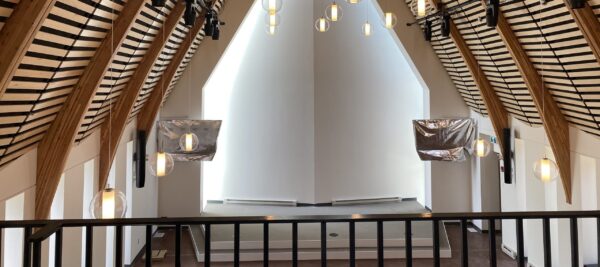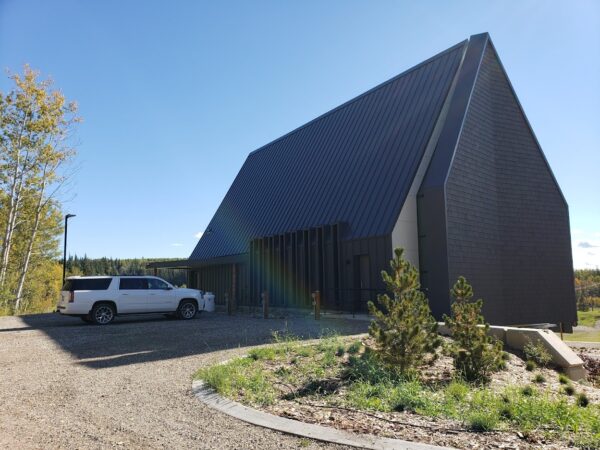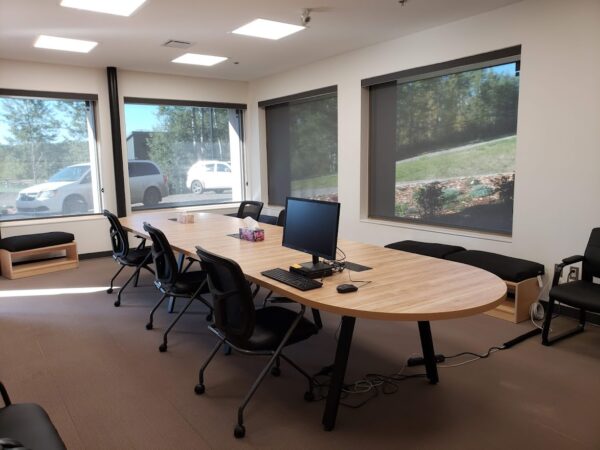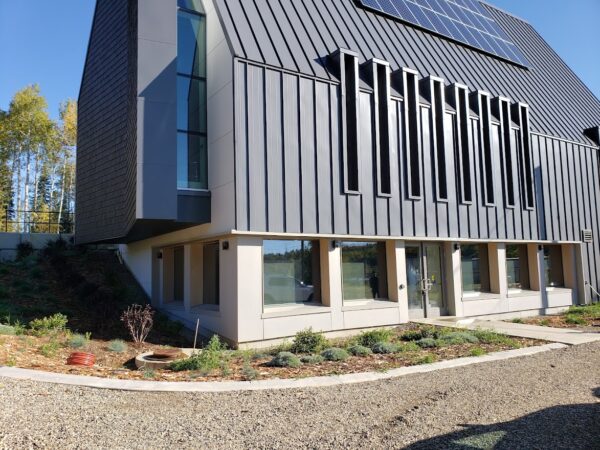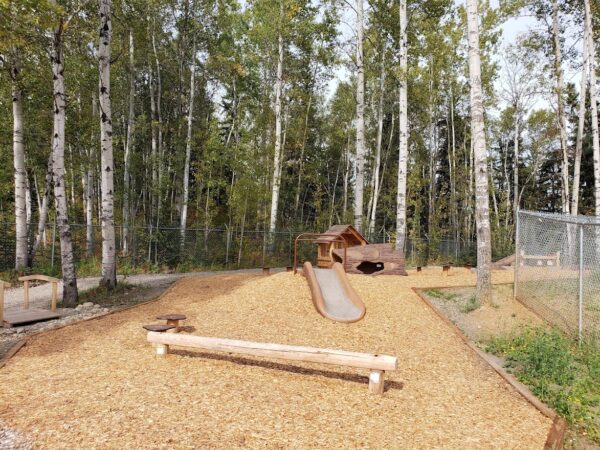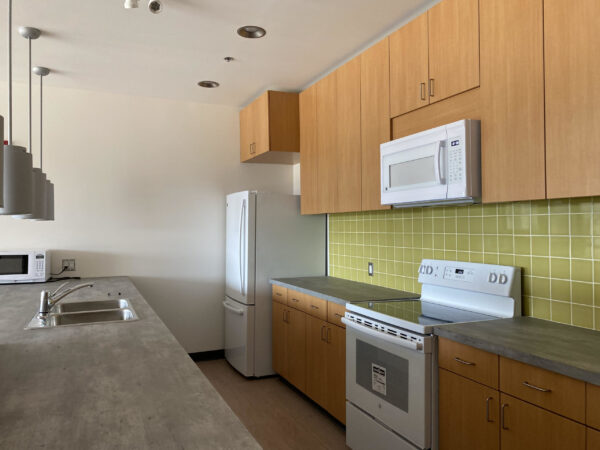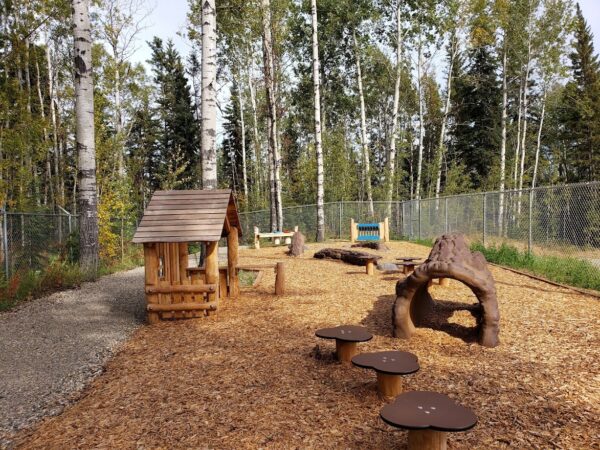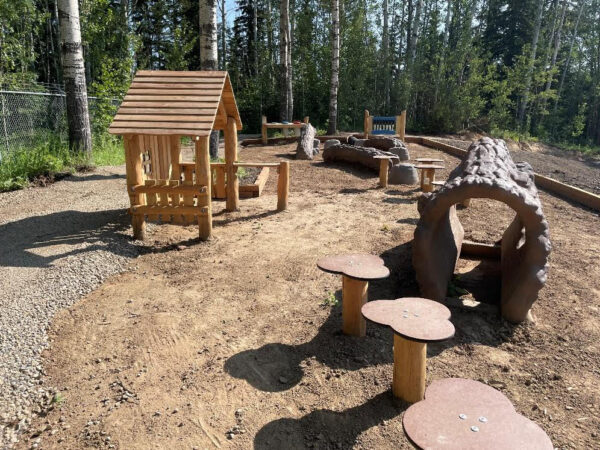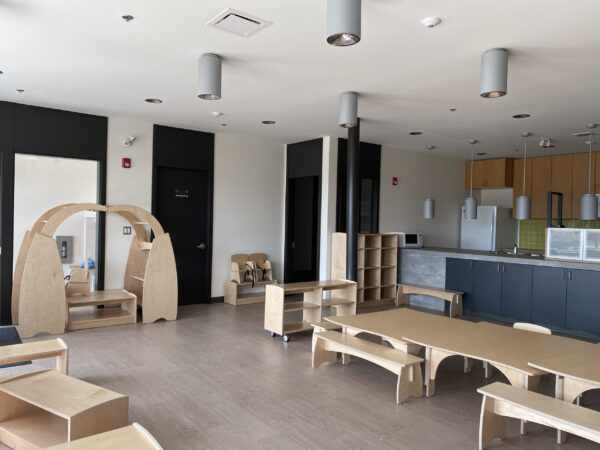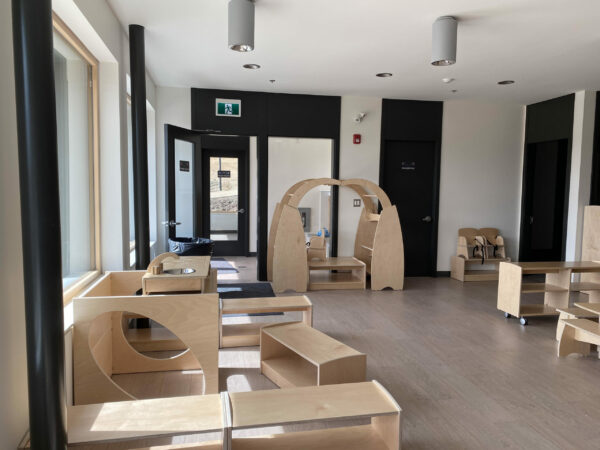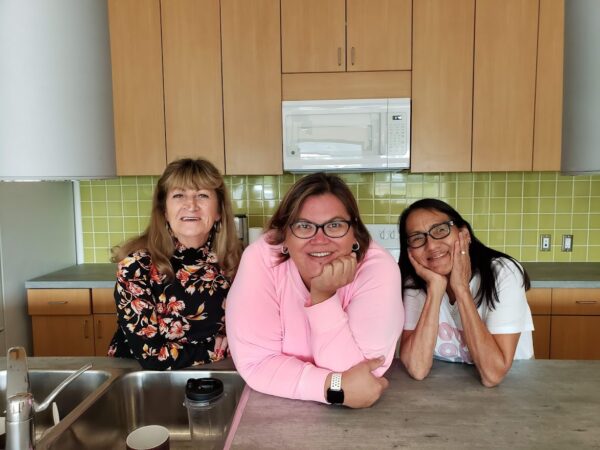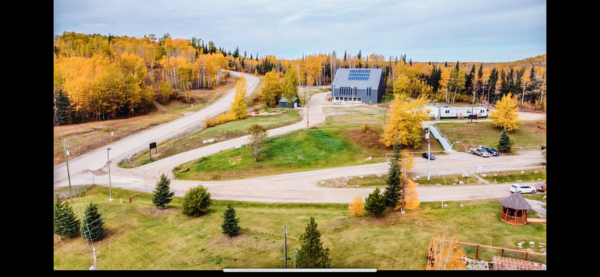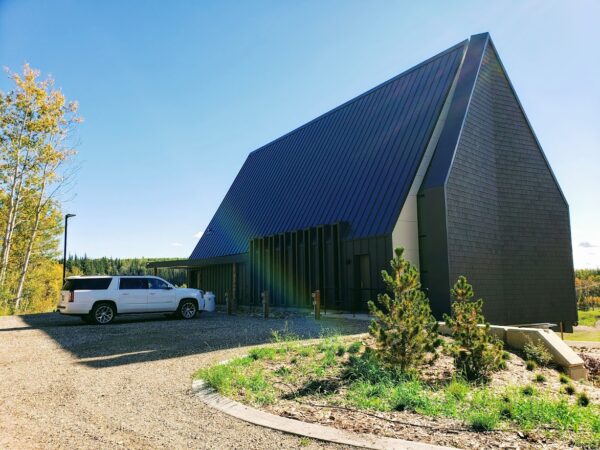 ---
Our community members share a strong desire to maintain and preserve our culture and language for future generations. A few years ago, we identified the need for a community centre as a place where we could gather to carry out cultural education of our young people as well as conduct Elders' programs and worship. Within a few years of conceptualization, the building has been constructed, incorporating green energy technologies. We are excited to begin using this building for our daycare, cultural and Elder programming as well as spiritual gatherings and other events.
---
Community Garden
We are very excited to continue with our community garden project at DRFN. In early 2020, we received funding from a food security grant administered by the Victoria Foundation to get it started. We were also able to partner with NEAT through their Northern Co-hort program in 2020, which brought in summer students to help with garden maintenance and general administration. In 2020 we hosted a rock painting workshop that the NEAT crew was able to attend and support, and the rocks we painted are in the raised bed garden.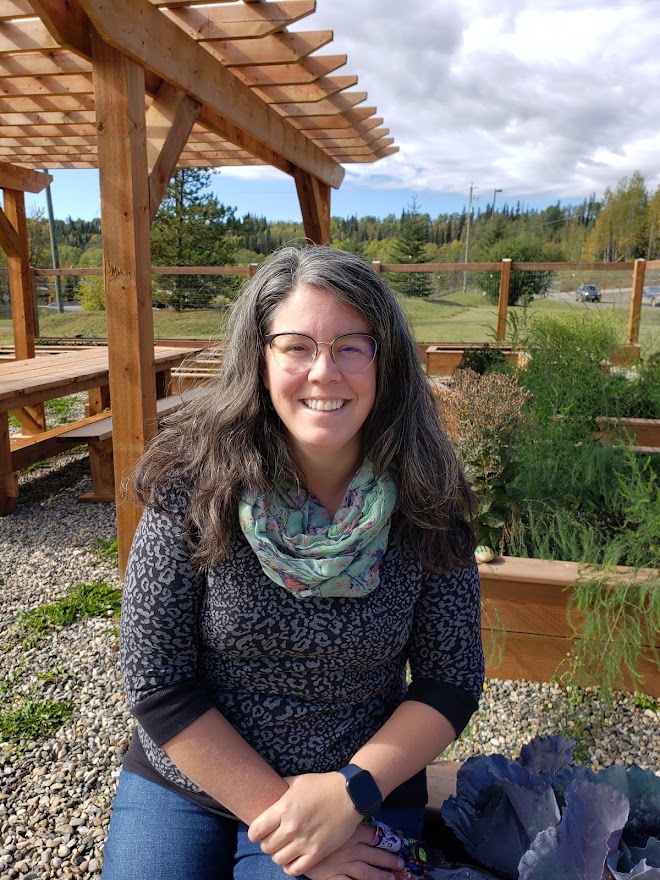 The garden is located on the west side of our Administrative Complex. It produced delicious, fresh, locally grown fruit and vegetables for members and is managed by our Forester, Sara Rowe.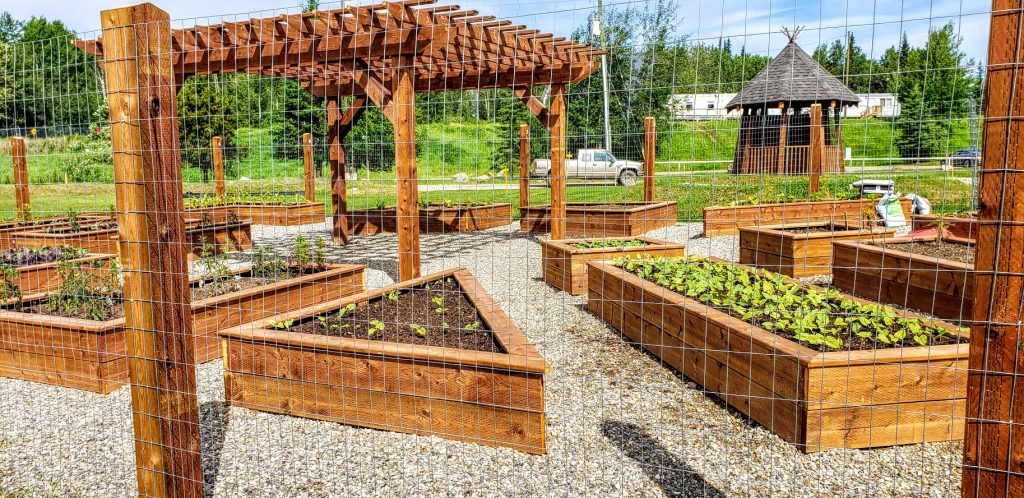 Our maintenance staff member, Kevin Geist, designed a beautiful, functional fenced garden containing raised beds, fruit trees and shaded areas to sit and relax. Beaver language, art and culture is being incorporated throughout the garden. We are looking forward to another productive growing season.
2021 was our second growing season at the DRFN gardens. We learned a lot and it was great to be able to ramp-up growing thanks to having Kylee Coles working on the gardens and Kaedin Davis supporting the water system.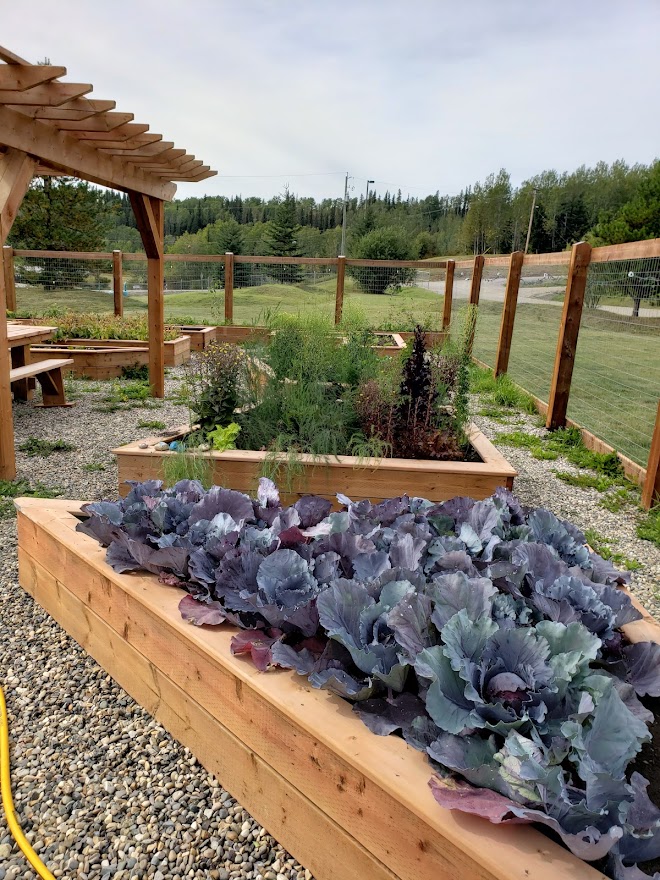 In our raised bed garden, we grew peas, carrots, beets, radishes, corn, tomatoes, beans, cabbage, chives, zucchini, asparagus, strawberries, lettuce, and various flowers. In the riverside garden we grew beans, strawberries, garlic, zucchini, potatoes, onions, tomatoes, carrots, cabbages, broccoli, and asparagus. The biggest success was probably the potatoes, we grew about 100 plants that each produced a pound of potatoes. Another success was that we grew all our own seedlings, and even had extras for some people to take home and plant in their own gardens.
We are looking to expand and improve our riverside garden. We plan to install fencing to keep the deer out and irrigation to keep a regular watering schedule. The perennials we planted in 2020/21 will continue to grow and should start producing in the next few years – we have raspberries, haskaps, rhubarb, asparagus, and strawberries.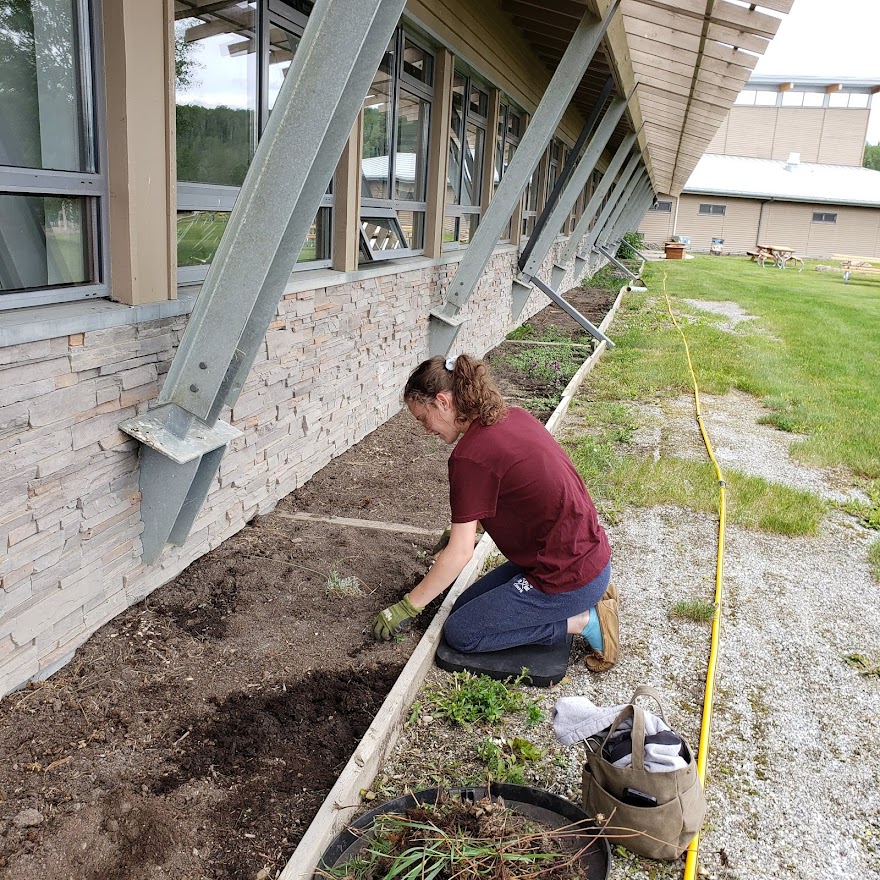 We are looking forward to 2022 and beyond. We will be putting in plants at the raised bed garden at the Peoples Prayer House, where we will focus on kid-friendly plants like rainbow carrots, sunflowers, and strawberries. It will be great to see kids digging in the dirt, planting seeds, watching how plants grow, and eating fresh fruits and vegetables.
Our community garden assistant, Kaylee Coles tending to gardens next to our Administrative Complex.
"Gardening is the most therapeutic and defiant act you can do. Plus, you get strawberries," – Ron Finley, The Gangsta Gardener
---
Garden Boxes & Picnic Tables
DRFN member Howard Attachie and maintenance staff member, Kevin Geist built picnic tables and raised garden beds for members in 2020.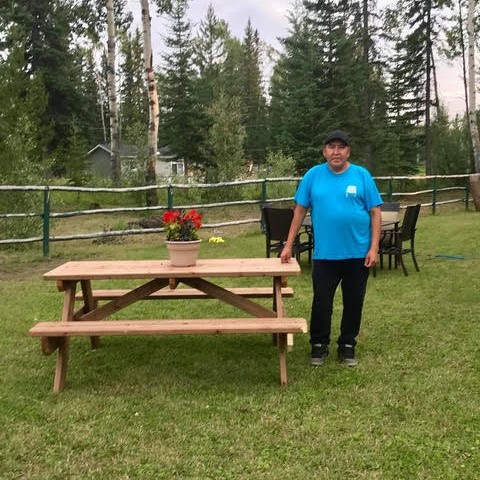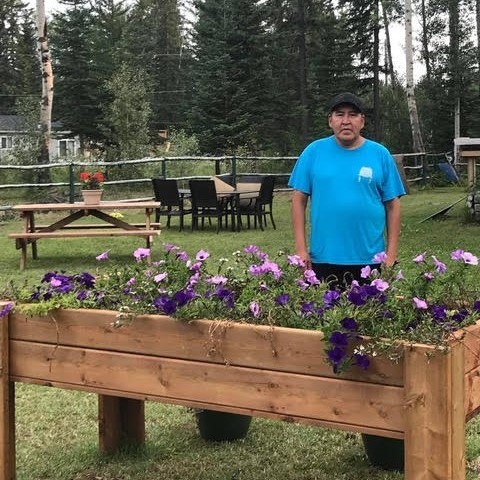 ---
Cabin Building

from 2015 to 2016, DRFN crews built cabins in various locations within their special places. Members are able to go out on the land in the same locations their ancestors used over the years to pursue traditional pursuits such as hunting, trapping, berry and plant picking.
---
Trail Building
Community Multi-purpose Trails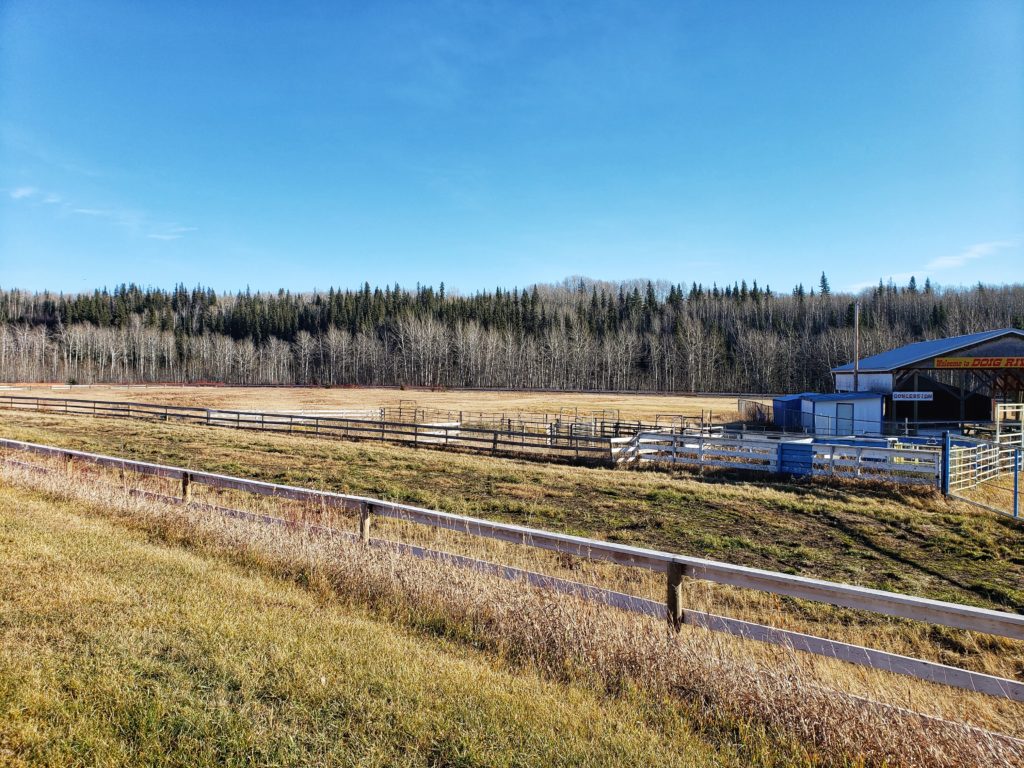 DRFN's multipurpose trail system is established and there are plans for expansion in the works. Presently there are trails southeast of the rodeo grounds and there are plans to establish more around the rodeo grounds as well as up in the Jackpine subdivision. The trails can be used for walking, biking and cross country skiing.
DRFN is getting ready to offer cross country skiing to members. We have purchased 30 pairs of cross country ski equipment for youth and adults. We have also purchased a groomer to set track for the skiers. Lessons will be available from the Integrated Services Manager, Davide Loro. There are also plans to do some roller skiing with members who want to train in the off season.
Bush Trails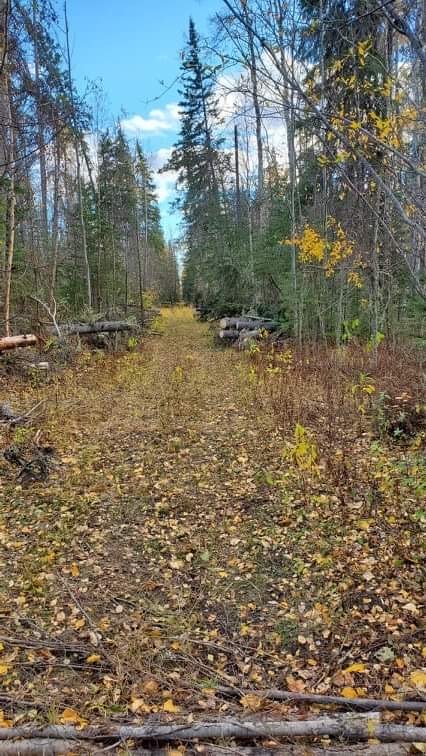 During the summer and fall of 2021 several members worked to reopen over 40kms of trails in and around the DRFN community and around the Hunter and Silver Lakes cabins . These trails are made up of both historic trails and current use systems that link the main reserve to hunting areas, spiritual places, cabins, gathering sites in the territory. Trails are essential network for connecting people to places on the land.
Work on DRFN trails initially started in 2018 through funding provided by RSEA. In 2018 and 2019, over 180 kms of trails were mapped and almost 30 kms of trails were constructed. This work has provided opportunity for members to be present on the land, share place-based teachings and stories and reconnect to historical places. Trail work will continue to be a priority for the Lands office.