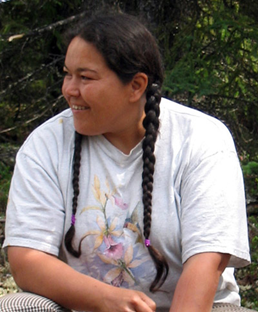 Hi, my name is Madeline Oker, and I am from Doig River First Nations in Northeastern BC.
I am from the Muskeg People of Chinchaga. I come from a long line of sewers. I was taught traditional crafts from my Grandma Alice Moccasin who died in 1989, and from other elders Sally Makadahay and Annie Oker. All my past time is spent on sewing and creating beautiful things for people. I like to create the old style bead work and styles of the ts'ibe wadane.
Madeline Oker
If you're interested in connecting with Madeline about her work, please contact her at 250-261-0154.
Works by DRFN artists can be purchased through our Cultural Heritage Resources and Language Department. Please contact Manager, Verena Hofmann at 778-715-3746 to find out what's available and make purchases.
---
Madeline Oker Art Gallery
---